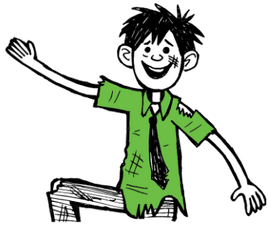 Rafe is a 12-year-old boy who hates school and rules. He has a HUGE crush on Jeanne Galleta, which is made obvious in Middle School: Big Fat Liar when his sister, Georgia Khatchadorian, tricks him into thinking Jeanne called him and he proves to have her number memorized. His mother is Jules Khatchadorian and father (who died) is Luca Khatchadorian. His former step-father is known as Bear. Rafe also has a brother/imaginary friend named Leo The Silent.
Appearance
Edit
Rafe has shaggy black hair. Rafe is an artist, who often draws his fantasies about his life. He is almost always seen wearing a red shirt with a black stripe across it, and blue jeans with red sneakers. His other clothes include his ninja suit, the jail clothes he wore, his knight outfit, and his normal outfit, with a white shirt instead of a red one.
In the movie, Rafe looks like this.
In the movie, Rafe seems to be in about 7th or 8th grade. He has brown hair and still has Leo as a brother/imagenary friend, but he;s not really silent.