Rafe Khatchadorian
Comments

70
23pages on
this wiki
Rafe Khatchadorian is the main character of the books Middle School The Worst Years of My Life, Middle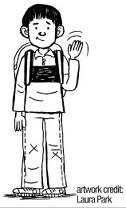 School Get Me Out Of Here! And Middle School How I Survived Bullies, Broccoli, and Snake Hill.
BiographyEdit
Rafe Khatchadorian was born to his single mom Jules Khatchadorian, and with his twin brother, Leonardo. When he was three, Leo died of leringitis, and his dad left for the army soon after. Rafe also has a crush on Jeanne Galletta, (who he wants so badly to impress.) He also has an annoying younger sister, Georgia Khatchadorian, who finds out that Rafe once took some of his future stepfather Bear's cans of Zoom, a highly caffeined wild  gotten his life into a pit. One day, Rafe got in BIG trouble for vandalizing the school walls, then got sent home. He did it because it was worth points on Operation: Rules Aren't For Everyone (R.A.F.E) and Bear found out, then got in a fight with his mother, in which Bear pushed her down the stairs, and Georgia called the cops. His brother, (and coach of R.A.F.E.) is Leonardo Khatchadorian, who died when the boys were 3 years old, and Leo still lives on in Rafe's head talking to him and has images of him. In Midlle School: the worst years of my life, Rafe fought and overcame Mrs. Donatello, called the dragon lady, sold his soul to Miller the Killer one dollar at a time, wrestled with Bear repeatedly, felt kind of in "like" with Jeanne Galleta, went into soda buisness, and went bust, accidently-on-purpose hurt everyone he cared about. Although Rafe is usually not a very good fighter, he is very artistic. He also has a average level intellect but fails at most of his school subjects (According to Georgia, he is the worst failure, but the only person who is more stupid than him is Miller the Killer).
Rafe was named after Rafael Sanzio...
In the first book, he says he's starting middle school so he would be 10-11 years old. By the second book, he should be 11-12 and by the upcoming third book, he should remain 11-12.